Lately I've been getting into Dance Dance Revolution-style games like StepMania and Performous. After trying out a few variations on conventional dance pads, I've mostly settled on a budget soft pad taped to foam below and with polycarbonate panels taped to it on top. But I also got curious about what it would be like to play with my hands. Not with my fingers, like keyboard and gamepad players do, but with my whole hands. I couldn't find any controllers for that, and I kinda wanted to see what it was like to design and build a custom dance pad controller anyway, so I went for it.
The first prototypes were non-controllers. I put on videos of StepMania and tried to play along by hitting things with my hands in various configurations just to see what configurations worked. My initial idea was to have things in front of me, behind me, and to both sides. So I put things in those places to hit and tried it out. Hitting the one behind me without taking my eyes off the screen was a bit too difficult for me though. Next I thought of a compressed 4 panel pad layout that could be put on a desk/table, where the up and down panels are adjacent and the side panels are on either side of them. (See picture of final pad below for that layout.) So I put 4 pieces of paper on my desk like that and tried that out. It was fun, so on to the next step of making a controller.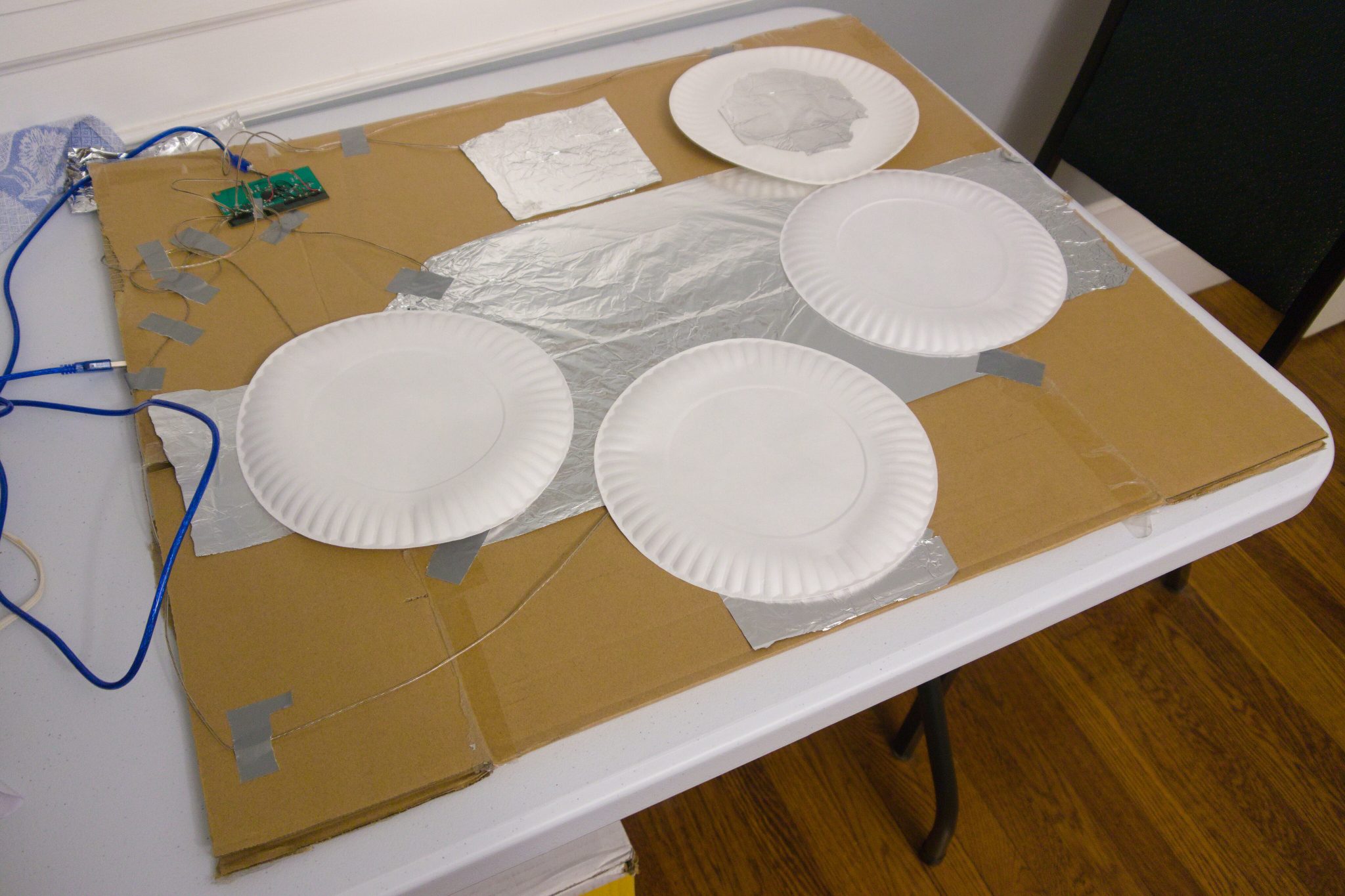 The controller prototype was a jumble of assorted parts I already had on hand (pun intended) to test out that I could get a controller working. Cardboard base, lots of tape (both duct tape and double-sided carpet tape), some speaker wire, aluminum foil, paper plates for the panels, and an already-programmed microcontroller than I took out of a broken commercial dance pad. The large central piece of aluminum foil is wired up to ground, each small piece of aluminum foil next to it is wired up to an arrow, and the aluminum foil taped to the paper plates connects the other two pieces when the plate is pressed. As a dance pad it was pretty terrible, but it worked well enough to move on to the next step of making something hopefully playable.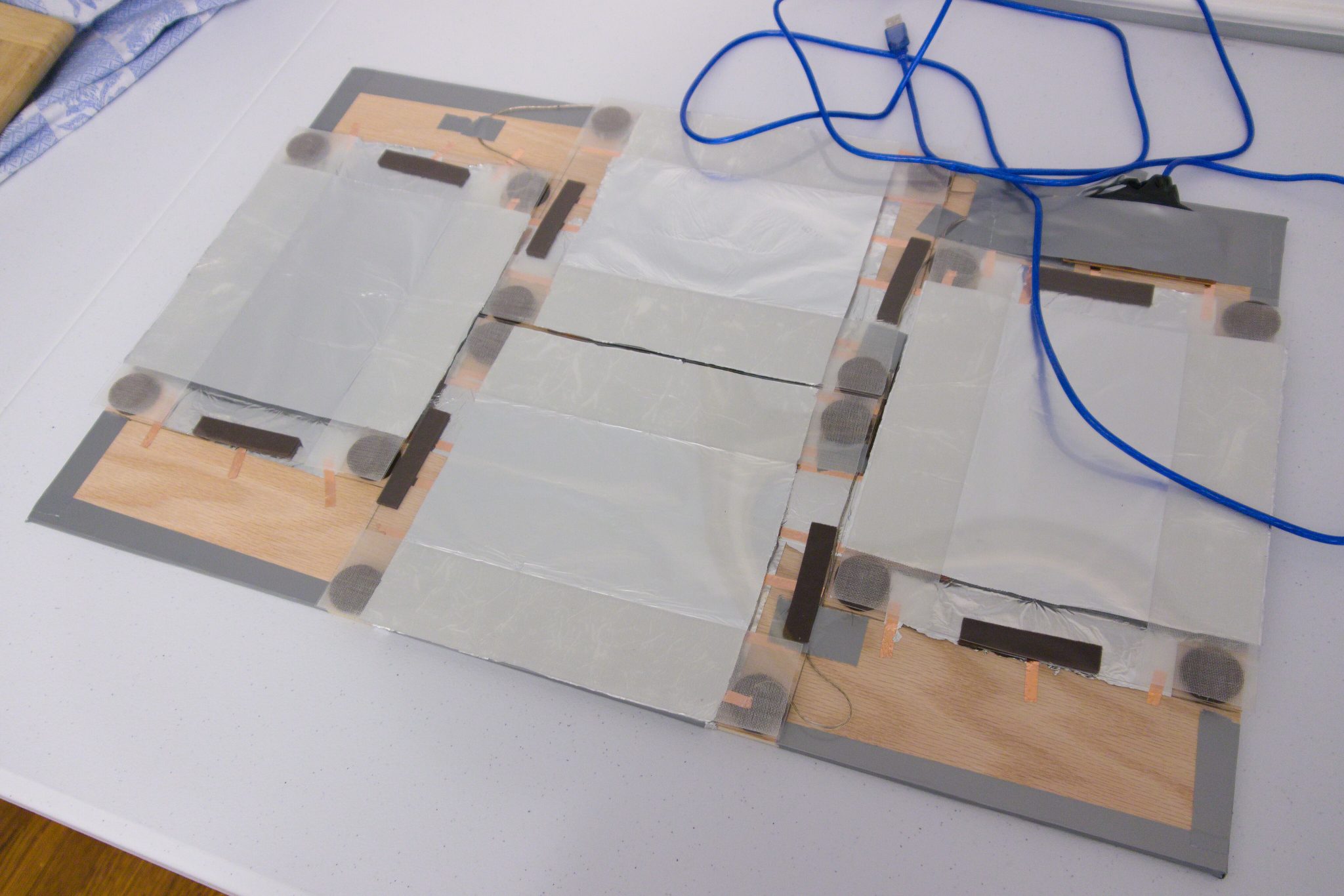 The "final" (quotes because it might well need some adjustments with more use) hand dance pad is a little less of a mess, but only a little. The base is 26″×16″×¼″ plywood with duct tape to prevent splinters on the edges and corners. The panels are 8″×10″×0.02″ polycarbonate sheets. I used carpet tape to attach aluminum foil to the base under all 4 panels, and copper tape to join the pieces of foil. Adhesive felt floor protectors hold the corners of the panels up off the base. (Not because I think that's ideal, but because I already had them and it seemed like they would work.) More double sided tape attaches foil to the panels and the panels to the floor protectors. Each of the 5 pieces of foil is connected to the microcontroller with copper tape holding speaker wire to the foil, then more copper tape holding the other end of the wire to the microcontroller. (I'm not great at soldering.) Then I wrapped all of the exposed copper tape on the microcontroller in electrical tape, and duct taped the whole thing down to an unused part of the base above the right panel. The first round of testing revealed way too many false positives, so I doubled up the floor protectors at the corners. Second round of testing went better, but occasionally a panel would still get stuck on, so I added more floor protectors along the long edges of the panels. Same thing again, so more floor protectors along the short edges. So far that seems to be working and I haven't had any more issues yet.
If I did this again, I'd probably use thicker plywood and polycarbonate panels, but it seems to function well enough, and it's fun to play. Maybe not as fun as a normal foot-operated dance pad, but an interesting change of pace.
Edit 2022-10-02: Playing with this on my desk was shaking my desk and knocking things over, so I taped some old holey socks to the bottom, which seems to have fixed the problem.